Used/Refurbished/Rental Banner Stands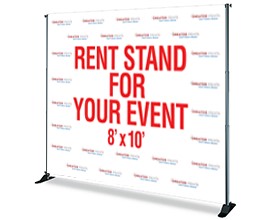 $ 0.00
Size
Price ($)
Product not available!
GARAGE SALE
In an effort to do our part in saving the environment, and our customers some money, we are now offering some used banner stands for sale. We have some 33 x 80″ stands, similar to our Premium Waterdrop retractable stands ($60 each), as well as some black 4ft x 78″ retractable stands ($70 each). Banners sold separately.
We have some big 10ft wide, curved, magnetic trade show displays for sale (custom graphics not included) at a deep discount. $300 each and we will throw in 2 lights. Retail value is $1100.