Snap Frame Sandwich Boards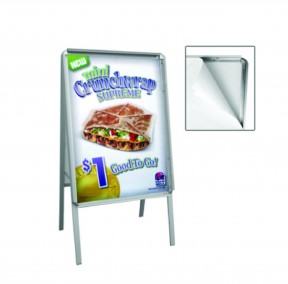 $ 150.00
| Size | Price ($) |
| --- | --- |
| 25.25" x 34.5" Snap Frame (FRAME ONLY) | 150.00 |
| 24 x 32" Glossy Paper Posters each | 30.00 |
| 24 x 32" Vinyl Posters each | 42.00 |
| 25.25"W x 34.5''H Wind Resistant Snap Frame (FRAME ONLY) | 180.00 |
| 35 x 49" Wind Resistant Snap Frame (FRAME ONLY) | 235.00 |
Snap frame sandwich boards are great for anyone looking to easily change the graphic. Simply snap the frame open, remove the protective plastic cover, then set a new graphic in the frame. Price includes the frame only.
Material: Anodized Aluminum Frame
Frame Size: 26-1/4″W x 34″H
Image Size: 24″W x 32″H
Full Height: 48″H
Comes with clear plastic print protector
Double-sided sidewalk sign holder
Snap frame designed to allow easy poster change
indoor / outdoor
This Sandwich Board is quite light and is not recommended for use in areas with lots of wind.