Retractable Banner Stands (All Retractable Stands now come with Premium All Flat Vinyl)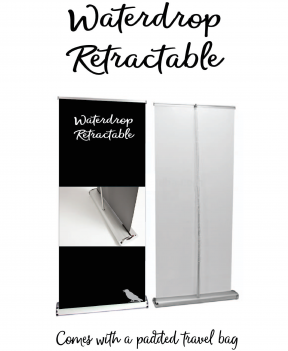 $ 55.00
| Size | Price ($) |
| --- | --- |
| 11.75 x 17.5" Mini Tabletop Retractable | 55.00 |
| 23.25 x 40" Large Tabletop Economy Retractable | 125.00 |
| 23 x 61" Small Economy Retractable | 200.00 |
| 33 x 80" Economy Retractable | 250.00 |
| 33.5 x 80" Waterdrop Retractable | 310.00 |
| 33 x 86" Heavy Duty Retractable | 360.00 |
| 33 x 86" Pure White Box NEW | 320.00 |
| 18 x 25" NEW Medium Tabletop Retractable | 80.00 |
Retractable banner stands Vancouver! Retractable or Roll/Pull-Up banner stands have a banner that rolls up and down into a base. Where space is limited, retractable stands makes a big impact. Vinyl banners are held into the base by double-sided tape. It is recommended that you bring your retractable stand to a sign shop to change the graphic though. Prices vary based on graphic size and or model type.
Warning: Frequent banner changing can lead to the adhesive of the tape wearing. This can make changing the banner tricky for those not used to doing it. It is important that your banner is strongly fastened to the base to avoid some major issues. We can help if you ever need it done.
All prices include the stand and the print. All retractable stands come with a travel bag.
MINI tABLETOP

Click to enlarge

ECONOMY TABLETOP

Click to enlarge

ECONOMY RETRACTABLE

Click to enlarge

Pure White Box

Click to enlarge

WATERDROP

heavy duty
Models may vary slightly from the photos here as stands get updated.
What's the Difference Between Regular Scrim Vinyl and our Premium All-Flat Vinyl? Have a Look here.
In a nutshell, "Regular" scrim vinyl has a textured surface, and All Flat vinyl has a flat surface. The latter shows nicer, but doesn't have the tear strength that regular vinyl does. Most outdoor applications should require scrim vinyl if they will be getting a lot of tugging, while indoor applications look nicer using All Flat vinyl, but don't require it. Both are fully waterproof, one is just nicer.
Retractable Banners Vancouver