Business Cards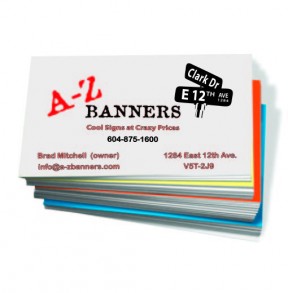 $ 35.00
| Size | Price ($) |
| --- | --- |
| 100 (Single Sided) | 35.00 |
| 250 (Single Sided) | 45.00 |
| 500 (single Sided) | 60.00 |
| 100 (Double Sided) | 40.00 |
| 250 (Double Sided) | 55.00 |
| 500 (Double Sided) | 67.00 |
Business Cards are 2″h x 3.5″w after they are cut. Most designs only have background "bleed" out to the edges of the card. This area gets cut, so you don't want to put anything too close to the edge.
Your PDF or JPEG file should have an ADDED .25″ BLEED ON ALL SIDES of the visible card area. This is just extra background and will be cut at the point it meets the edge of your card.
Your design should be 2.5″h x 4″w with the bleed.

Semi-gloss 12pt cardstock.
Please call for quote on other quantities. Prices based on print ready files supplied.
Design or set-up charges may apply.